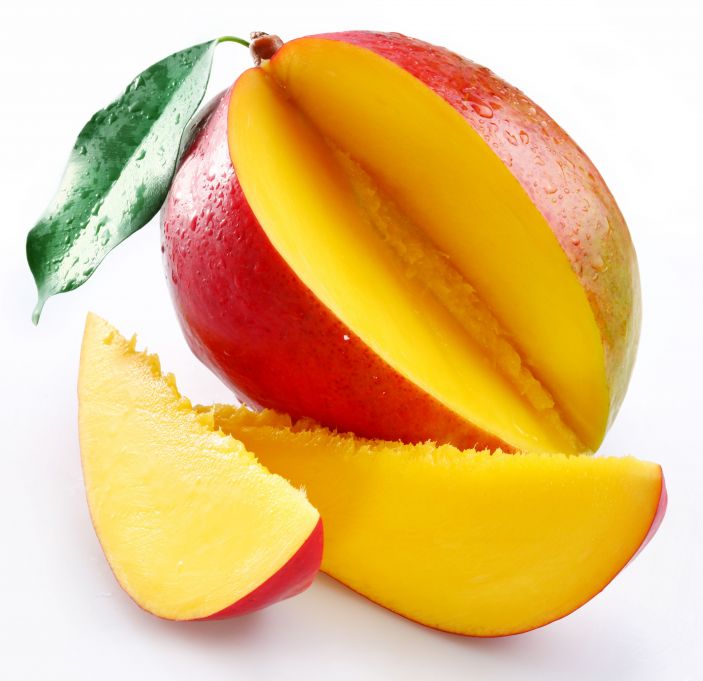 The Irvingia Gabonensis extract is taken from the seed of the African mango.
Despite the recent attention surrounding African Mango, and it's weight loss benefits, the fruit has been consumed, and used as a diet aid for centuries in the African country of Cameroon, this is the only place where African Mango is grown. African Mango which has also been called the "bush mango, is unique in that it contains a number of seeds, while most mangoes only contain a single large seed. These seeds have been used by tribesmen in Africa as a means of suppressing hunger when running long distances. Not only do the Irvingia Gabonensis in the seeds help to suppress their hunger and appetite when traveling, but it also gives them more energy to be able to run and travel over long distances without tiring.
Have you ever wondered why, despite all your dieting and exercise efforts, you keep gaining weight, and it becomes more challenging to keep excess inches off your abdomen as you age. Now abdominal fat is fat you don't
want hanging around. Belly, or abdominal fat is the fat that surrounds your organs. Abdominal fat promotes the release of cytokines, cell-signaling protein molecules associated with poor health. Belly fat can be the most difficult fat to lose, being resistant to many of the best diet and exercise programs. Perhaps you've heard the expression "middle-age spread". As you reach middle age and beyond, your body begins to store and release fat differently, and this all happens out of sight at your body's cellular level. Your fat cells control their size and number by secreting three different command signals:
Leptin
Adiponectin
Glycerol-3-phosphate dehydrogenase
These command signals tell your brain whether to stop or to continue to eat. It's because of these three substances that many young, physically active people can consume what seems like endless calories without packing on pounds. The hormone leptin is key for helping your body maintain its lean composition. Here's how it works. The fat cells in your body secrete a hormone called leptin. Leptin works as a chemical signal in your blood that tells your brain you have eaten enough. When things are working optimally, you body hear's that message and you stop eating. Your body really doesn't want to pack away more pounds than it needs. Your body naturally seeks to stay within your ideal weight zone. Not only does leptin help shut down your hunger, but it also helps you burn more calories. Leptin also stimulates the breakdown of stored triglycerides from your fat cells. Now here is what overweight individuals have to contend with, by having high levels of leptin circulating in their bloodstream. Because of this overload, their fat cells become less sensitive to leptin, that is, cells do not receive and respond to leptin signals optimally. This is how leptin resistance can lead to weight gain and stubborn weight loss. It's simple, follow this, when you're overweight, your fat cells also increase in size, they pump more and more leptin into your bloodstream in an attempt to get their message through to your brain. Unfortunately, your brain does not hear the message in an optimal way.
In response, two things happen:
First, your body burns less fat.
Second, your fat cells soak up fewer free fatty acids, from your bloodstream. The overabundance of fatty acids in your blood causes your muscles to become less responsive to insulin than they ideally should, ultimately leading to a rise in blood sugar. This in turn only leads to more free fatty acids, more fat stores and a vicious cycle.
Now it looks like the extract from the African Mango, called Irvingia Gabonensis, may help support optimal leptin sensitivity in overweight people. By promoting your body's ideal sensitivity to leptin, you can better know when your body has eaten enough food. In a recently published study, Irvingia demonstrated positive effects upon leptin blood levels and resulted in weight loss and inches off the waistline.
Over a 10-week period, one double-blind study group received 150 mg of Irvingia extract twice daily while maintaining the same diet and exercise level. This group lost an average of 28 pounds whereas the placebo group lost less than three pounds.
The Irvingia group also maintained healthy blood glucose, cholesterol, and LDL levels that were already within the normal range. Plus, there was a significant reduction overall of circulating leptin. In a study I read recorded in the National Library of Medicine,
this study was to evaluate the efficacy of Irvingia Gabonensis seeds in the management of obesity. This was carried out as a double blind randomised study involving 40 subjects, mean age 42.4 years. Twenty-eight subjects received Irvingia Gabonensis, 1.05 g three time a day for one month, while 12 were on placebo and the same schedule. During the one-month study period all subjects were on a normocaloric diet evaluated every week by a dietetic record book. At the end, the mean body weight of the IG group was decreased by 5.26 ± 2.37% (p < 0.0001) and that of the placebo group by 1.32 ± 0.41% (p < 0.02). The difference observed between the IG and the placebo groups was significant (p < 0.01). The obese patients under Irvingia Gabonensis treatment also had a significant decrease of total cholesterol, LDL-cholesterol, triglycerides, and an increase of HDL-cholesterol. On the other hand, the placebo group did not manifest any changes in blood lipid components. Confirming Irvingia Gabonensis seed may find application in weight lose.
Irvingia targets the important factors that may be involved in age-related weight gain, such as responding to your fat cells command signals.
In addition to
supporting healthy leptin sensitivity, Irvingia also helps:
Reduce the activity of glycerol-3-phosphate dehydrogenase which may help reduce the amount of starch and sugar calories that turn into body fat.
Support a slowing of the rate of carbohydrate absorption from the intestines and a reduction of the caloric impact of starchy and sugary foods.
Support healthy adiponectin levels while helping to maintain healthy insulin sensitivity.
You'll first notice Irvinga, working as it helps to suppress the appetite. It's also been clinically proven to increase fat burning by elevating the metabolism. It has not been connected to any serious side effects.
This one ingredient is the only ingredient, prescription or natural, that has been clinically proven to lower levels of leptin
. African Mango has a number of active components capable of results that have never been seen before with any other ingredient. It has a low propensity to be abused. When you use Irvingia, you will find it can help you to lose more weight. Though it should not be the only idea, in your plan for loosing weight. Of course, I have to remind you though, if you eat more calories than your body can utilize, weight loss can't occur, because excess calories are stored as fat in your fat cells. It's just that simple. In my opinion, you simply can't consume unlimited calories and expect to shed fat pounds by taking a product that might happen to show weight loss in a research study.
Avoid high fructose corn syrup
Avoid processed foods, sugars, grains, fruit juices, and sweetened and diet drinks, and sodas.
Supplement with omega-3 fatty acids (Krill oil is the best, and most highly absorbable form to use)
The best thing about the Irvingia Gabonensis is the fact that it is completely natural. While many artificial and chemical products tend to have downsides, the fact that the Irvingia gabonensis supplement is 100% natural makes it a completely safe supplement to take in any situation. Anyone is able to take Irvingia Gabonensis, and there is nothing that will harm the body.
Now there are many companies offering Irvingia or African Mango extract, and since most of us won't be traveling to Cameroon anytime soon for the real thing, as always do a little web research before you buy. If healthy weight loss is one of your concerns by all means check with your doctor, and give this wonderful supplement a try.
Now watch this video for some other great
weight loss tip's.
Good Luck...
OR TRY A NO COST INTRODUCTORY WORKOUT OR DIET CONSULTATION, BY PHONE, SKYPE, OR IN PERSON. PLEASE CONTACT ME DOC MASTERS AT flexappealdoc@hotmail.com
www.ncbi.nlm.nih.gov/pmc/articles/PMC1168905/
mercola.com