Watermelon for your manhood ...really?
If you are like me there is almost no other fruit you'd rather eat. The question is, is watermelon really healthy, or just an over hydrated fruit in search of a liter of vodka. Well, if a watermelon could speak, their reply would be something like, "Hey, that's is an insult". So be advised this is a fruit that is loaded with essential vitamins and minerals, and antioxidents. Many people eat watermelon as a treat, to most it represents summer time. Besides being an effective thirst quencher, watermelon is packed with nutrients that can help you to maintain heart health, years down the line. Let's look at some of the ways watermelon "does a body good". First, and most obvious would be, it is rich in vitamin C, which is an excellent antioxidant. As we all know, antioxidants provide anti-aging effects by protecting the body from the onslaught of free radicals. With increase in age, the body becomes susceptible to ailments. For instance eyesight deteriorates as we get older. An easy way to keep these age related disorders at bay, is to consume substantial amounts of naturaly occurring vitamin C, which is abundantly found in watermelon. Lycopene, a carotenoid that displays anti-cancer properties is also a constituent of watermelon. Studies show that that lower levels of lycopene in men's blood puts us in the risk zone of prostrate cancer. Substantial research also proves that lycopene can play a major role in reducing the chances of developing lung and colon cancer. Lycopene, can actually stop cancer invasion, so including that daily serving of melon, with breakfast or lunch is sounding like a better idea, right? To ensure that the body gets it's daily dosage of lycopene, vegetables like tomatoes, are another great source.
This fruit can certainly help to protect the heart from various ailments, but here's the reason you're reading this article. Watermelon seems to be the new natural Viagra on the block. The researchers at Texas A&M's Fruit and Vegetable Improvement Center have made a wonderful discovery that may help cure erectile dysfunction besides increasing libido. "The more we study watermelons, the more we realize just how amazing a fruit it is in providing natural enhancers to the human body," said Dr. Bhimu Patil, director of Texas A&M's Fruit and Vegetable Improvement Center in College Station. Enzymes like lycopene, beta carotene and phyto-nutrients are all present in Watermelon. The most important of the phyto-nutrients is the citrulline which has amazing positive effects in our body like relaxing the blood vessels just like Viagra. This citrulline gets transformed into arginine after combining with certain enzymes in our body when we eat watermelon. Arginine, an amino-acid that not only relaxes blood vessels, and boosts immune system, and builds muscle but is also excellent for heart. "The citrulline-arginine relationship helps heart health, the immune system and may prove to be very helpful for those who suffer from obesity and type 2 diabetes," said Patil. "Arginine boosts nitric oxide, which relaxes blood vessels, the same basic effect that Viagra has, to treat erectile dysfunction and maybe even prevent it." "Watermelon may not be as organ specific as Viagra, but it's a great way to relax blood vessels without any drug side-effects."
Eat few pieces of watermelon and you just smile you feel good, you feel energized. The reason being watermelon is very rich in vitamin B. To combat fatigue, people are often advised to take vitamin B energy drinks. This is because vitamin deficiency can lead to decreased energy levels. Also it's mostly water and so are we.
Watermelon breeders discovered that crossing a
diploid
plant grows fruit that rarely develops seeds, just a few empty white seed coats. The melon's flesh is firmer because the usual softening of the fruit around the seeds does not occur. Watermelon is also a natural remedy to bring down high blood pressure levels. This is because watermelons are loaded with potassium, a dietary mineral that can restore healthy blood pressure levels. Doctors often prescribe potassium supplements to reduce high blood pressure. Instead of taking medications, having watermelon on a daily basis could be an effective way to lower high blood pressure. Being high in water content, eating watermelon could also be helpful in treating skin problems like acne and dermatitis. Drinking watermelon juice is believed by holistic medicine to assist in curing acne. Also being a good source of lycopene and vitamin C, it can help to rejuvenate the skin and improve its texture, because of it's high antioxidant properties. It's also necessary to have a sufficient intake of vitamin C, for the production of collagen, a protein found in inner layers of the skin, Collagen basically provides elasticity to the skin and prevents wrinkling of the skin. Therefore eating watermelon (high in vitamin C) can certainly assist to slow down the aging of skin. According to some dermatologists even applying the juice externally should be a good option also, to clear away the skin from blemishes and pimples. From providing a flawless skin to boosting energy level of the body, to helping out with sexual function, watermelon health benefits are plenty. Keep in mind that nutritional value of watermelon is also very high. So, the next time if anyone questions, Is watermelon good for you? let them know all about this super fruit.
Still I know there are some frat boys or vacationers just looking for a watermelon big enough to sodomize with a bottle (or two) of inexpensive vodka. All in the name of youth, affections, and summer. The ironic part is they still get all the health benefits of the watermelon too. (Along with the hangover) The fact is, there is a watermelon festival in hundreds of little hamlets from coast to coast in our country and around the world. Yet wastefully hundreds of thousands of tons of watermelons are plowed under, and dis-guarded. My theory goes like this, some people for some reason consider watermelon an occasional delicacy or a "treat". Well it shouldn't be. I hope we've shown you that watermelon is an inexpensive, healthy every day type fruit. So eat up this summer my little snowflakes... And if you can't eat up drink up. Good Luck...
How To Pick A Good One !!
Frozen Watermelon Margarita...
_ 6oz. premium tequila
_ 1.5oz cointreau liqueur
_ 1oz. Roses Lime
_ 16-20oz. Seedless Watermelon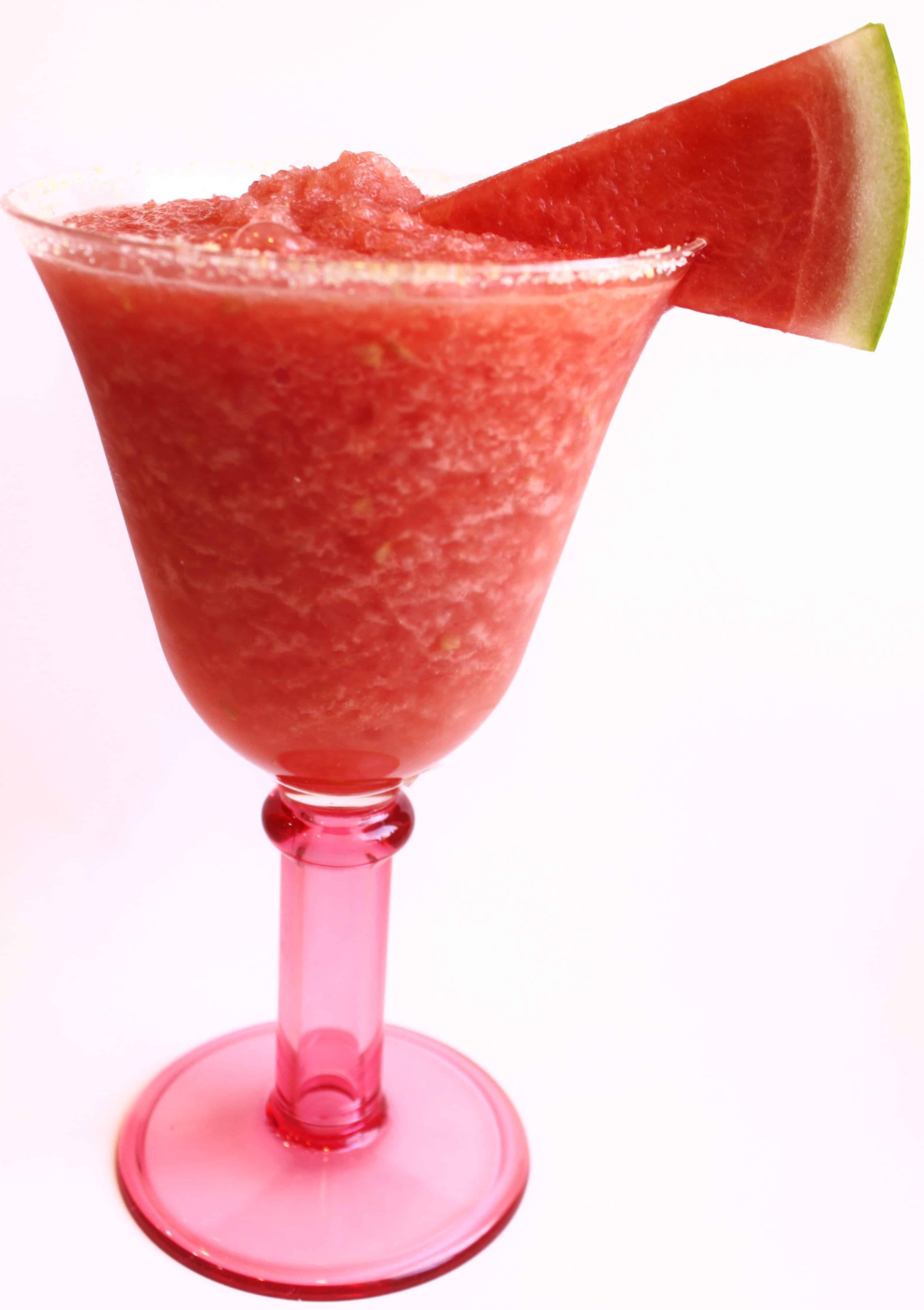 Use a blender to liquefy a seedless watermelon. Add the rest of the ingredients and blend , adding ice until desired consistency is reached. Serve in coupe glasses with sugared rim.
But, hurry fast, this offer will end soon!
Or you may be interested in trying
A NO COST Introductory personal trainer workout or diet consultation by phone, Skype or in person!
For the best Personal Fitness Training in Orange County, California:
PLEASE CONTACT ME; DOC MASTERS, at
flexappealdoc@hotmail.com
For Pure Clean Drinking Water any time, anywhere click one of the
"Nourish A Life"
banners on either side of this article at the top of the page, or this link doc.nourishalife.org and get your own water filtering bottle. Save the environment, save your health,
"Nourish A Life"